Recreation Department
Site Map Investigators Log-in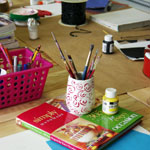 The objective of the Rockefeller University Hospital Recreation Department is to contribute to the improved functioning and independence of the patients and to offset deterioration. The department works to provide all patients with pleasant and rewarding activities in a safe and comfortable environment.
Program Components What and Why
Crafts:Drawing, painting, collage, decoupage, and various crafts kits provide not only an activity, but a sense of accomplishment and because they are frequently used as gifts, a social bond. Comparing techniques with other patients allows for creativity and cooperation.
Outings and Walks:Outings provide relief from routine and are fun in their own right. Even short walks around the neighborhood provide a change of scenery and a break from routine. Longer trips are something to look forward to, perhaps a completely new experience for the patient, and a group activity. Outings are posted for all who wish to participate.
Games:There are a number of puzzles and board games, as well as a pool table, greenhouse and outdoor terrace. Again, fun, the excitement of good-natured competition, and social interaction are the major benefits.
Exercise:The department offers yoga tapes and exercise mats. For a patient whose protocol and physical condition allows it, exercise provides a positive use of energy in a setting where people tend to be fairly inactive.
Movies: The department has a collection of books, DVD's, videos, books on tape and musical CD's, which can be can be borrowed by the patients for use in individual rooms when the department is closed.